Learner Bars and Ski Booms
Deluxe Quad V-Drive Boom (B204V)
Fits V-drive Boats With A Rear Mounted Ski Pole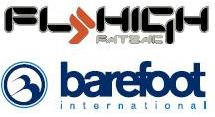 The Barefoot International Deluxe Quad V-Drive Boom is designed by Mike Seipel, 2 time barefooting world champion. This boom is built to stay strong and won't damage your boat. For added safety, this boom utilizes a dual stainless steel cable system that runs all the way to the attachment point at the bow. There are no levers or moving parts in the clamp designs because they can loosen or break during use. The clamps for this boom are extremely strong with heavy duty hardware to ensure they remain mounted firmly to the ski pole. It also has a quick release pin which makes it easy to attach and remove the boom.
DO NOT USE ON REMOVABLE QUICK RELEASE SKI POLES
DO NOT USE ON SKI POLES THAT HAVE LESS THAN 75mm OF LENGTH TO ATTACH THE LEARNER BAR TO
Rural shipping fees apply. Please contact us for a quote on shipping to your area.
WILL NOT SHIP INTERNATIONALLY!
Shipping
| | |
| --- | --- |
| Region | Price |
| New Zealand (Auckland) | $40.00 NZD |
| New Zealand (North Island) | $80.00 NZD |
| New Zealand (South Island) | $160.00 NZD |
| Australia | $0.00 NZD |
| United States of America | $0.00 NZD |
| Asia | $0.00 NZD |
| Europe | $0.00 NZD |
| Other | $0.00 NZD |
Note: You will only be charged shipping for the most expensive item in your order.